How much time do you waste in your MSP setting up your Microsoft 365 customers?
Are you sure your engineers have been into all the right areas and done everything they're supposed to? Are you even sure what best practice is? Things are changing all the time and the Microsoft Security and Compliance Centre is a minefield.
If you're working with unlimited support plans, you really don't want to be spending huge chunks of time on tasks or this will eat into your engineers' time and so your profits. The more time they have available, the more you can put them onto chargeable tasks to bring you even more rewards.
As MSPs are paid for a service, it makes total sense to be able to complete it as smoothly, effectively and timely as possible.
You don't know what you don't know and the only time you'll find out is when it all goes wrong. And, who gets the blame then?
You need something to make this headache go away AND stay away.
MSP Easy Tools has sorted this for you. We see this Tool called many things: M365 base line templating, M365 security defaults, M365 onboarding requirements, M365 standardisation … call it whatever you want, you just want to know that your tenants have been set up exactly the way you want AND that they'll stay that way.
Ticking all the right boxes!
With a simple, yet thorough template system, you can create default tick boxed templates for your Microsoft 365 security. This can then be effortlessly rolled out across your tenants, as simple as 1,2,3 … taking less than 60 seconds per tenant.

Accessible by all your engineers, or just the ones you want to have access – the choice is yours.
Leave nothing to chance
With all engineers singing from the same hymn sheet, so to speak, you can rest easy knowing that everything is being set up to your standards the way that you want and, more importantly, the right way to keep everyone safe.

Those niggling concerns you have about whether something has been missed or is everyone doing the same thing are removed. This not only makes your MSP more ship shape and compliant, but also takes a huge weight off your engineers' shoulders.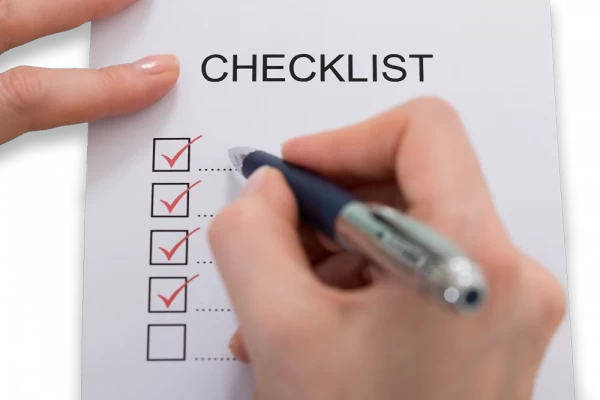 You know engineers don't like asking for help, seeing it as a sign of weakness in themselves, possibly leaving them open to criticism, which totally goes against their key personality profiles. Well, with this simple, yet highly effective system, there is no room for error or guesswork.

A huge positive for EVERYONE.
You'll know if someone has been tinkering
The last thing you want is to find out, when it's too late, that someone has changed a security setting that doesn't comply with the security template that you created. With MSP Easy Tools, once you've applied a template to a tenant, the system will check daily to ensure no changes have been made.
If any changes have been identified, you will be told so you can go back in and investigate.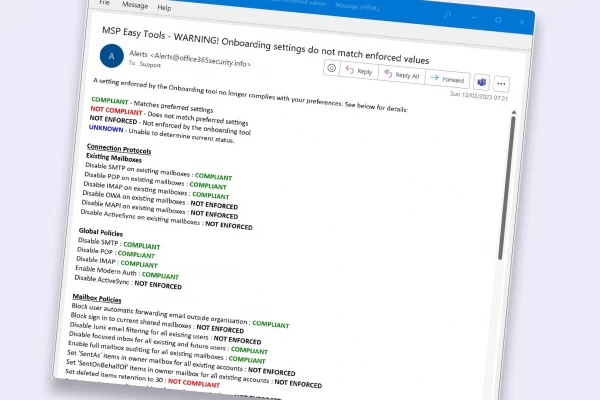 Know where you currently stand
Even before you get started rolling out templates, you can get a full Security Report at the click of a button.
This will give you all the key information you need to see about how their Microsoft 365 is set up.
Run a report at the start.
Roll out your template.
Run a report at the end.
With detailed, user-friendly end customer reports too, you can give them something to keep them smiling and show real value for money with what they are getting from you.
Did I mention it's a really easy way to increase your MRR too?
All MSPs are not the same.

It's the ones that go the extra mile, don't leave things to chance and basically make their customers feel so much love and care that they'll never want to go anywhere else, that WIN.

We know because we've been there – had the MSP, grown it through a clever accumulation of the right monthly recurring revenue generators and then sold at the right price because of this.
We can show you how you can easily upsell your customers and win new ones by using MSP Easy Tools.
With one-to-one sales and marketing strategies and all the done for you resources, tested and proven by our many MSPs worldwide, you can make life so much easier for yourself and significantly increase your MRR – GUARANTEED!